Posted by Saddle Up on Feb 13th 2019
Organized trail rides are a great way to socialize with other horse enthusiasts, offers a good training opportunity for your horse, and lets you have loads of fun headed down a trail with other riders!
Many riding clubs, equine communities, or just horse friends in general sponsor organized trail rides from anywhere between 10 to a couple hundred riders! The whole point of an organized trail ride is to have fun and stay safe.
Be sure to do your research on which group you would like to go on a trail ride with, including reading up on all their safety rules as well as knowing what trails they will be riding and what the speed of the trail will be. If you own a seasoned trail horse, the options or endless! If you have a green trail horse, you may want to stay with a smaller group, a shorter trail, and only stay at a walk.
Remember to prepare you and your horse as best as you can before the trail ride so it will be a safe and positive experience for you, your horse, and the group. Always practice good trail courtesy and if you have any questions don't hesitate to ask someone in the group!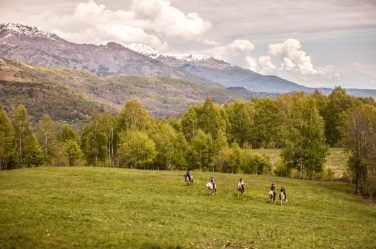 (free photo from Canva - https://www.canva.com/ )

~ Saddle Up