Posted by Lynnsy Johnson - Saddle Up on Aug 22nd 2019
It's incredible how many sports the equestrian world has. There is something for everyone and it really gives versatility for people to live out their passion. Rodeo, jumping, sorting, and reining are a few well known sports, but have you ever heard of Horseback Archery? Yes, I said Horseback Archery! This old riding style is making a huge comeback and people are adding a modern twist to it.
Horseback Archery was around before a saddle was even invented. It was practiced by Greeks, Romans, Mongolia, China, Japan, and Native Americans. It was very popular in the olden times, but back then it was not practiced for competition. Horseback Archery became a technique that was used to prepare for battle and also to fight in wars.The Native Americans, who were highly skilled in archery, used it to hunt and also used it for their protection. It wasn't until the 1920's that Mongolia introduced the idea of it being a competition. Since then, it has grown wildly popular, spreading through Central Europe and even the United States.
Horseback Archery Competitions have even spread to our shop's location, Colorado. We have had customers come in that have competed for a long time and even some beginners. They all say it is certainly a true test of horsemanship. The course is usually 300 feet (90m) long. It consists of three different sections and it is a timed event. Targets are placed around the course and the object is to strike each target off of a galloping horse. The position of the rider is a huge factor and they even have certain rules on it depending on the target you are approaching. There is also a panel of judges who regulate the event and many office workers who help keep everything rolling. There are quite a few rules and regulations, but it does depend on the organization putting on the event. They have them all stated on their website or at shows.
Modern competitors use a traditional recurve bow, either a fiberglass replica or a genuine one. Another common piece of equipment is a hip quiver, which they draw the arrows from. There are many different bow styles and brands to pick from. It is based on preference as well as any requirements from the competition. Another cool thing is the competitors typically wear "traditional costumes" to run the course in. It is not required, but a lot of participants love the history of the sport and they embrace it by wearing medieval type costumes.
You are welcome to compete no matter what horse you ride! Any horse can do this no matter if it is a Quarter Horse, Appaloosa, or Arabian! It is recommended that you compete on a horse that is well trained and has a light handle. A light handle is important because the rider needs both hands to shoot their arrow. This means that most of the time they are not even holding onto the reins. Your horse should be very intune to leg pressure/signals and seat aids. These courses have a lot of bells and whistles so, for safety reasons, your horse should be calm and not spooky. A major factor is also making sure your horse is able to maintain consistent speed at a full gallop.
We are all unique and that's why the equine community is loved. There is something for all of us to enjoy! If you are looking for something new and exciting to try, maybe Horseback Archery is for you! You'll never know till you try so take a "shot" at it!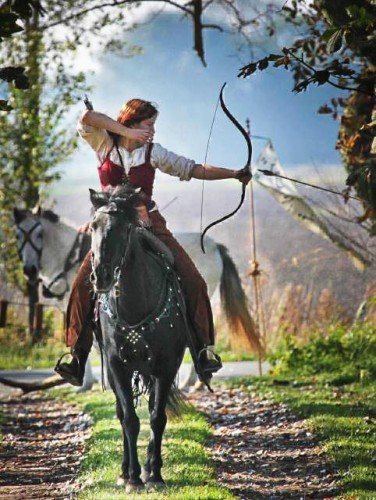 (picture credit: https://www.writinghorseback.com/mounted-archery-on-horseback/)